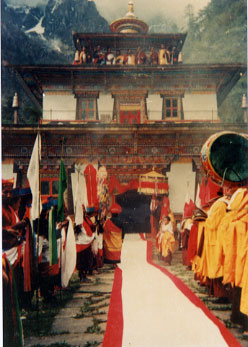 T

his small Buddhist monastery is currently struggling for its survival. In previous generations the community was made up of Ngag pas. They were able to support both the lamas and the physical building of the monastery. Times have changed. These practitioners no longer have the time for concentrated practice. Also, the basis of their wealth, the salt trade between Nepal and Tibet, no longer exists. It is important to remember that the high altitude and harsh climate only allow one harvest of crops a year. Most households barely make enough to get by.

Even though the monastery runs on a very meager budget, approximately $30,000 a year, an expenditure of $150 per monk or nun per year, its future is threatened by financial difficulties.

Now, it is to the World's benefit to help this vital spiritual community. As the global marketplace makes the world appear smaller, we hear so much bad international news. The world cannot afford to loose this source of purely positive energy.

How can we personally help? From a personal point of view, we can earn merit by giving. By supporting the monastery, we will be preserving a tradition which is a force for peace in the world. A Monastery of monks and nuns dedicating all of their time and energy to spiritual practice will generate blessings for the whole world.

Changing our own habits alone will not be enough to secure good karma. We need merit: then a good result is always secured. Generosity relieves Karmic afflictions, accumulates merits, and makes for future happiness and physical well being. Please take the time now to allow yourself the gift of giving.