The 11th Nubri Lama was Chö Kyi Nyima. He became a monk and entirely dedicated his life to the Dharma. He studied and trained at Choten Gompa in Sikkim with the 4th Dodrup Chen Rinpoche as his teacher (root Lama). Dodrup Chen Rnpoche appreciated Cho Kyi Nyima for his sincerity and dedication of purpose. After completing his training, Nubri Lama returned to Nubri and rebuilt the Sera Gonpa (Nubri Monastery). He then invited Dodrup Chen Rinpoche to consecrate the Monastery (Rabnay) and give Spiritual Empowerments (Wangs) to the monks and nuns.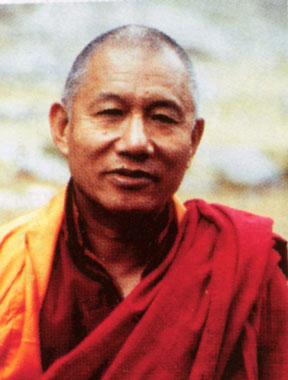 Dodrup Chen Rinpoche

In 2000, Dodrup Chen Rinpoche sent Karma Tulku to Nubri Monastery. Karma Tulku originally came to Chorten Gonpa, Dodrup Chen Rinpoche's main monastery which is in Sikkim, as a small boy. He trained at Chorten Gonpa for many years and is considered to be an exceptional being. At Nubri Monastery, he shared responsibility with Nubri Lama.

After the death of Chokyi Nyima in 2006, Karma Tulku assumed responsibility for the Monastery. The monks and nuns of the Monastery, as well as the local community, all wanted the Monastery to come under the spiritual guidance of the Fourth Dodrup Chen Rinpoche. Rinpoche had some reservation because of the cultural differences between himself as a Khampa, Karma Tulku as a Bhutanese, and the community as Nepalese, so he directly asked them "Will this really work?"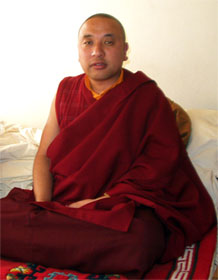 Karma Tulku

The leaders of the local community went to the central government to ask for guidance. They were told that they should do whatever the local people wanted. And so, the local leaders who were both organized and in agreement, came to see Rinpoche in Sikkim. They formally asked Rinpoche to be the spiritual head of Sera Gonpa, Nubri Monastery. The local leaders assured Rinpoche that the people all had the same respect for Karma Tulku, as for the late Nubri lama. Rinpoche signed a document of agreement with the Nubri representatives formally making Nubri Monastery a branch of Rinpoche's Chorten Gonpa Monastery.