Monasteries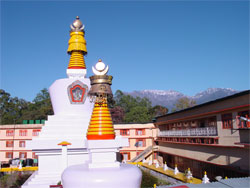 The Chorten Gonpa Monastery is in Sikkim, a Himalayan state of India. The monastery is located on the outskirts of the capital city of Gangtok. This monastery has become the main seat of the Head of the Longchen Nyingthig tradition, Dodrup Chen Rinpoche. Under his supervision it has grown from a handful of people in the 1960's to nearly 500 resident monks and nuns at present. About 10% are nuns. Most of the residents are children being schooled there. When they become adults, some will carry their religious training out into the world as laymen and some will continue to devote their lives to religious training and service. Being near a population center, this monastery provides many services and is, in part, an orphanage, a boarding school, and a nursing home. Funeral and other prayer services are available. The monastery has become a major source for religious articles such as religious texts, artwork, and ritual objects. Several smaller monasteries in Sikkim have developed a relation of being branch monasteries to Chorten Gonpa and sometimes derive some of their support from it. The Tshog Dag Foundation considers the support and continuance of the Chorten Gonpa Monastery to be of paramount importance.
The Nubri Monastery of Nepal, by contrast, it located in an extremely remote region where there is very little in the way of a surrounding community to support it. To learn more about Nubri Monastery, click here.
Recently, Lachung Rinpoche, a young Tulku who was recognized by Dodrupchen Rinpoche and trained at Chorten Gonpa, has built a retreat place and Temple in Sikkim on the site where his predecessor live. He's now building a Shedra (school). This Monastery is a branch of Chorten Gonpa. For more details, click here.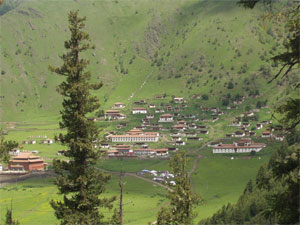 Back in the Golog region near Tibet is the Dodrup Chen Monastery, Dodrup Chen Rinpoche's namesake and original monastery. Prior to it's destruction in the late 1950's, the Dodrup Chen Monastery and it's branch monasteries were quite famous in the region. For many years, the people of the Golog region were not allowed to practice religion at all. They kept their faith, though, and in the 1980's restrictions gradually loosened and they were allowed to rebuild the monastery. Progress was slow due to the tremendous devastation and poverty. At great risk to himself, Dodrup Chen Rinpoche periodically returned to Golog to help re-establish religion there and help rebuild the monastery. Communication and travel is difficult there, but the Tshog Dag Foundation does send some support as need and opportunities arise. The Monastery is currently under the supervision of Longyang Rinpoche, the reincarnation of Tulku Riglo, the other 4th Dodrupchen Rinpoche. He has been actively developing the Monastery to it's former glory. You can find out more about Dodrupchen Monastery at their website: www.dodrupchen.org
In the 1980's, the King of Bhutan invited Dodrup Chen Rinpoche to visit Bhutan and give teachings. Over the course of a few years, Dodrup Chen Rinpoche became very popular there and several monasteries have become devoted to following his tradition, especially the Yongla Gonpa and Pema Gatsal monasteries. In recent years, a situation has arisen which makes it difficult to support them, but we hope that in the future the Tshog Dag Foundation can help support these monasteries.
For more information, see the following pages: